Land Clearing To Prepare Your Lot For New Build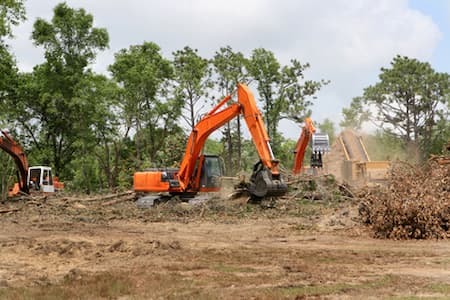 Before you can break new ground on a brand-new construction project here in Bonneau, the land has to be readied for construction with land clearing. Land clearing is a major undertaking, requiring an extensive multi-step process to clear out roots, trees, and smaller vegetation, and it requires a skilled team to thoroughly clear and prep the land properly.
Our land clearing experts work to quickly and safely remove any vegetation and obstructions from your plot of land, so you can get to work bringing your construction project to reality. If you're ready to book our land clearing services or want to get an estimate for the project, call Carolina Wrenn, LLC today at (843)-901-5875.
Professional Dirt Work Experts
When embarking on a land clearing project, it's important to work with knowledgeable experts. Uneven surfaces, leftover roots, and other blockages can stop a construction project in its tracks!
We ensure the land is correctly prepared through a multi-step process. We clear away any debris and mulch down smaller vegetation. We then pull down larger trees, grind stumps, and remove any shallow roots that could present an issue. Once the land has been cleared, we compact and grade the dirt so that it can be ready for the next step of your construction process.
Since we opened for business in 2018, we've been helping with excellent expert land clearing, sitework, and tree removal for Bonneau locals. Our efforts have been awarded with acclaim- we've received the Best of Berkley County Award multiple times for our outstanding work. With our years of experience in the field, we take great care in our land clearing services to help ensure that your construction project is a success!
Other Sitework Services
While traditional land clearing is necessary for areas where you need to put down a foundation, not all construction sites need land clearing. In fact, when total land clearing isn't necessary, it can be actively damaging to the ecosystem and leave the land vulnerable to erosion. If you just need to reduce overgrown shrubs and smaller vegetation without stripping the land entirely, our forestry mulching is an ideal, eco-friendly alternative.
Aside from our land clearing services, we provide other important sitework services like drainage pipe installation and gravel and dirt driveway installation. These services help alleviate flooding and water erosion and create durable, easy-to-maintain driveable passages for your property. If these services can help you complete your construction project, give us a call today.
Give Your Bonneau Land Clearing & Tree Removal Experts a Call Today!